See our research updates under the News page on this website
Try out our experimental prototype research environment (desktop version) with the entrance hall of the 17th-C house of Pieter de Graeff & Jacoba Bicker (Version August 2021)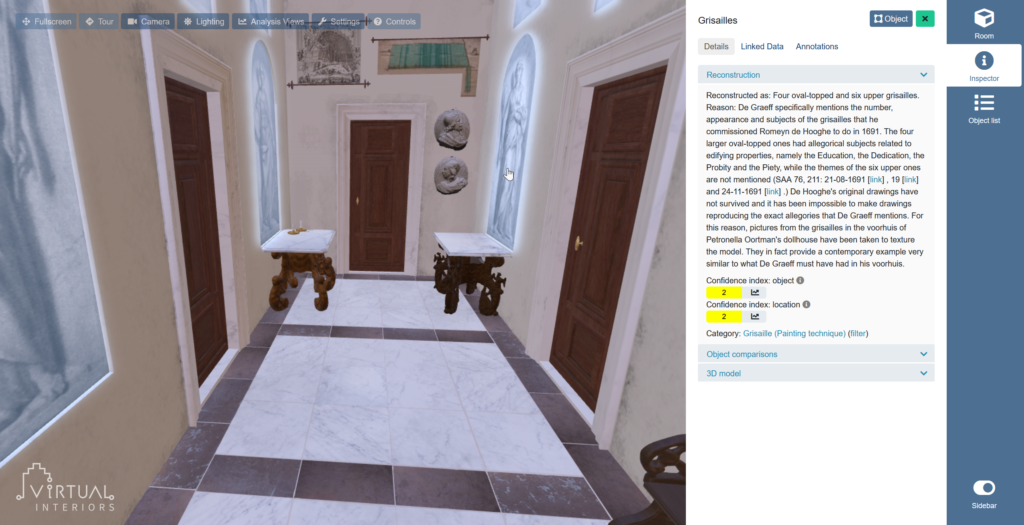 A screencast demonstrating the features implemented in the prototype research environment is available at https://doi.org/10.1515/opar-2020-0142 or at https://dx.doi.org/10.21942/uva.14424218
For more information on the context of its creation, see H. Huurdeman 2021. Analyze & Experience: Towards a Research Environment for 3D Reconstructions
Selected publications
Huurdeman, Hugo and Chiara Piccoli 2021. '3D Reconstructions as Research Hubs: Geospatial Interfaces for Real-Time Data Exploration of Seventeenth-Century Amsterdam Domestic Interiors', Open Archaeology, vol. 7 (1), 314-336. https://doi.org/10.1515/opar-2020-0142
Huurdeman, Hugo and Chiara Piccoli 2020. '"More than just a Picture" -The Importance of Context in Search User Interfaces for Three-Dimensional Content', CHIIR '20: Proceedings of the 2020 Conference on Human Information Interaction and Retrieval, March 2020, pp. 338–342. https://dl.acm.org/doi/abs/10.1145/3343413.3377994
Li, Weixuan (forthcoming), 'A Network of Iconography: Tracing the evolution of iconography in history paintings in the Dutch Golden Age,' Journal of Early Modern Low Countries, December 2021.
Li, Weixuan (forthcoming), 'Spotting specialists: A digital approach to contemporary concepts of genre and specialisation,' Pictorial genres in seventeenth-century Dutch painting, Brepols, 2021.
Li, Weixuan 2020. 'The Hands Behind De Lairesse's Masterpieces: Gerard de Lairesse's workshop practice,' Journal of Historians of Netherlandish Art, vol. 12 (1). https://jhna.org/articles/the-hands-behind-lairesses-masterpieces-gerard-de-lairesses-workshop-practice/
Li, Weixuan 2019. 'Innovative Exuberance: Visualizing the fluctuations in painting production in the 17th-century Northern Netherlands', Arts, Special Issue: Art Markets and Digital Histories, vol. 8 (2), 72. https://www.mdpi.com/2076-0752/8/2/72
Li, Weixuan, Chiara Piccoli and Charles van den Heuvel 2019. 'Embracing Complex Interfaces Linking Deep Maps and Virtual Interiors to Big Data of the Dutch Golden Age', Digital Humanities conference, July 2019, Utrecht, Netherlands. https://dev.clariah.nl/files/dh2019/boa/0145.html
Li, Weixuan and Chiara Piccoli (forthcoming). 'Boedelinventarissen als bron voor de reconstructie van zeventiende-eeuwse interieurs'. Amstelodamum.
Piccoli, Chiara (forthcoming). 'Home-making in 17th century Amsterdam: Investigating visual cues in domestic interiors by means of a 3D digital environment', in G. Landeschi and E. Betts (eds.), Capturing the senses: Digital methods for sensory archaeologies, Quantitative Methods in the Humanities and Social Sciences, Springer.
Van den Heuvel, Charles (forthcoming). 'Interacting with Big Historical Data of the Dutch Golden Age: Golden Agents and Virtual Interiors', in R. El Khatib and C. Winter, New Technologies and Renaissance Studies, New York/Toronto: Iter Press.
Van den Heuvel, Charles, Gabri van Tussenbroek, Julia Noordegraaf, Chiara Piccoli and Weixuan Li (forthcoming). 'Virtual Interiors en de gelaagde stad. Een inkijk in een digitaal lab voor een ruimtelijke geschiedenis van Amsterdam', Stadsgeschiedenis.